Why I won't be posting for a week - Non-Cancer related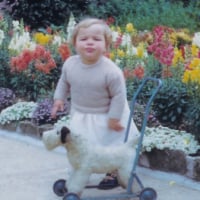 I will be 'missing in action' over the coming week, and I'll tell you why. 
I was abandoned at birth and adopted at two. I did find out who my biological mother was, (never have met her and no desire); but no father on the brith certificare, so I figured I would NEVER know. 
Fast forward 60 years. I did one of those DNA tests. For truth, I was quite sceptical.  In one of the emails they sent, it said there was a match for a 1st cousin. I ignored it for a year, because the woman was American, and all her relatives on her pedegree chart were American, and I am English. 
This year I thought 'oh, what the heck' so I sent her a message.  She said she didn't think any of her uncles were in England in 1958, BUT HER DAD WAS. 

.
We sent a few pictures back and forth. One of the pictures of her father was like looking at my son.  She emailed back and told me that one of my childhood pictures was like looking at her dad. 
I HAVE FOUND MY BIOLOGICAL FATHER - though he has passed on, I find that I have FIVE step-sister. 
Tomorrow, I am heading out to Iowa, to meet my step-sisters and my step-mother

.
Oh, and I'm not so sceptical about those DNA tests any more. 
So, I'll be back, with tales to tell. 
Tru
Comments
Discussion Boards
5

CSN Information

118.9K

Cancer specific