3rd Clinical trial!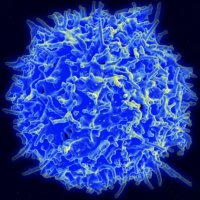 But not for cancer. Rather, trials are being conducted to learn how to combat Graft-versus-Host-Disease for transplant patients. And, since I have a touch of that, I inquired about trials. I am treated at SCCA/Fred Hutchinson, so trials are their daily task. They found one sponsired by Moffitt Cancer Center in Tampa that combines high-dose steroids with the monoclonal antibody drug Arzerra (Ofatumumab) - think 'Rituxan class' drugs. The thinking is that Arzerra's destruction of B-Lympohcytes will impede them from triggering T-Lymphocytes to attack the host body. Precious little is known regarding altering or interrupting cell-signaling in the human body, so this is a chance to learn. And, if I do not benefit, those after me will. And, I have another treatment available if it is not effective in my case.
It is good to think about participating in clinical trials if they are appropriate, and even better to sign up. Medical science is advanced only through trials and I think we all want to see more effective and less toxic therapies. You are never locked into a trial, and may exit if you wish. But, the chance to receive cutting edge drugs years before they hit the market is a distinct advantage. I had 4 1/2 years complete remission from one such trial (Romidepsin).
All the best to you folks!
Comments
Discussion Boards
6

CSN Information

121.1K

Cancer specific