My personal list of FOLFOX - 5FU side effects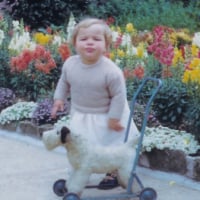 I just thought I would make a list of all the side effects I remember from my Chemo (Radiation had a whole seperate list). Its quite impressive. 
It has always facsinated me how each of us differ in the side effects we experiece/have experienced. 
This is my list.
SIDE EFFECTS FROM CHEMO
From the top to the bottom (literally. HA!).
- My scalp was ultra sensitive. It hurt to lay my head back against the sofa, or on a pillow, and it hurt to brush my hair. 
- My hair fell out.  I actually don't remember if that solved the sensitive scalp problem. 
- Headaches.
- My eye brows and eye lashes fell out. Really, you don't realise how much you need them until they are gone. 
- My eyes would spasm. Twitch uncontrollably. This only happened when I was outside in the cold. 
- My eyes would run constantly. It looked like I was crying. 
- I lost my sense of depth perception. Yes, I wrecked my husband's car (so glad I wasn't in my Mini). I was banned from driving.
- I used a old folks walker. I fell over sideways constantly. At the end, I could not walk without someone by my side or I had to have the walker. 
- Nose bleeds and sores. 
- Mouth sores.
- Thursh - Fungal infection on the tongue
- Taste buds went haywire.
- Sensation of a lump in throat and chest. Felt like the food was getting stuck.
- Electric shock in teeth when eating. Like when you have a filling and bite on tin foil. This, thankfully, didn't last too long.
- Throat would constrict when drinking anything cold
- Brain fog. Oh my word! This was the weirdest experience. It felt like I had cotton wool in my head. 
- Loss of memory. Loss of cognitive thought. I would forget what words I wanted to use, and just make up words. I talked allot like my mum did, when she had Alzheimer's. It was VERY scary. 
-  Dizzy. The room would spin. Of course, I had vertigo and something called BPPV (you can look it up if you like), so I think the chemo just accentuated this.
- All of my body hair fell out. I remember my face and arms felt like silk.
- Heartburn. OH MY WORD! This was so so so horrible. 
- Shortness of breath. I couldn't do anything but it made me gasp for breath. I actually have this on tape and kept it to remind me how awful it was. 
- Bone pain. Mostly from the Neupogen shots I had every week day for a month for the low white blood count. 
- Couldn't touch anything cold for the first four treatments. This went away, thankfully.
- Open sores on fingertips (you MUST keep your hands moistened). 
- Constipation throughout Chemo
- Diarrhoea throughout Radiation - but thats a whole different list. 
- Loss of appetite - Really not the ideal way to lose weight. 
- Loss of sex drive.
- Cold. I could not get past the cold. No matter how hot the house was, I was cold and buried under blankets.
- My skin went brown in places. Under eyes. Skin above nails. And I got tonnes of age spots. And of course, when I was radiated, personal areas. 
- Neuropathy in feet, hands (especially fingertip which I still suffer from), 18 months out of treatment. Its getting better. I can feel my toes rubbing together if I wiggle them.
- Low White Blood Count = Neupogen Shots every week day for a month or two.
- Low Platelets = Cancelled Chemo twice
- Low Red Blood Count = 2 Litres of blood from a stranger.
- Fatigue - I've expereinced nothing like it in my life. I felt like a balloon deflating. 
 Damn! Thats one scary list. 
Comments
Discussion Boards
6

CSN Information

120.3K

Cancer specific