So tired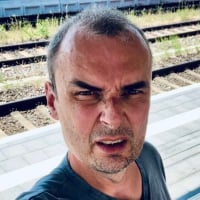 Hi. I first wanted to say: sorry, guys. I know I was quite active, during the first weeks of my radiations. Then I disappeared for a while, more or less.
I feel a bit guilty, because I received a lot of support and good advice, and it feels a bit like freeloading, at this point. It's just that, during these last weeks, I felt so tired every day. All I have energy for is procrastination and the little that is left goes to taking care of anything that can't be delayed. I also sleep a couple of hours every day, during the day.
I'm quite well, I suppose. Gained a bit of weight – not much. Just about 2 kg from the 15 I lost since this whole journey began. My taste is coming back, but very slowly. I'd say that, on a traffic light scheme, if a month ago, it was in the red area, it's now mid-yellow. I can taste my calorie drinks, which allows me to take enough, but hardly anything else, really.
My biggest issue is, right at the moment, trismus. I try to stretch my jaw daily, with the help of stacked tongue depressors, but progress is very slow, if any.
I hope all of you are fine.
Comments
Discussion Boards
6

CSN Information

120.7K

Cancer specific