Teeth care vs gag reflex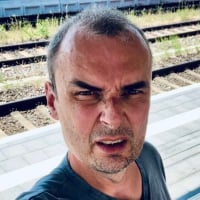 I have another very important question that worries me a lot. I'm finishing my radiation treatment, and I'm very worried about teeth care.
Had my teeth professionally cleaned and fixed before radiation. None extracted. Got some tray made, which I used until a week ago.
Then, my neck started swelling on one side, to a point where I have to gag from coughing, or just moving. Since then, brushing the inside of my teeth has become merely impossible. As soon as the toothbrush reaches the last molars, I gag. It's impossible to brush them like I would probably need to. Using the trays have become impossible too. So I brush over them quickly, gag, then keep the high fluoride toothpaste in my mouth for a while. Next, I use a mouthwash (without alcohol) which is supposed to prevent bacteria from building up.
I'm scared of moving towards a catastrophe. Still, doing my best to keep those teeth clean, but always with a feeling it won't be enough. Any ideas or good thoughts?
Comments
Discussion Boards
6

CSN Information

121K

Cancer specific