Partial Glossectomy Yesterday 6/21/18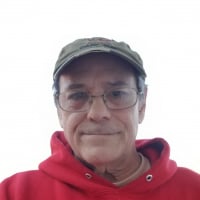 Good Morning
First I would like to give God the Praise Glory for a successful operation that went well.
And thank him for the all the many who were praying so fervently for me.
And for the great medical team I had that made everything go so smoothly and successfully.
That applies over the whole gamut of my care at the hospital from check desk in to my discharge
nurse they make you feel comfortable and well cared for.
The operation went smoothly at least that is what I can gather considering I slept through
most of it.
Dr Belser ENT gave an estimate of around 2 hours but I believe it was just slightly over 1 hour.
So things must have gone well since it was about half the estimated time.
My Doctor is very confident he removed all the cancer and we have clear margins.
I don't believe they removed much tissue as my tongue looks intact except the shape is a little
off on the left side because of the stitches.
When they dissolve it may not be noticeable.
I have liquid and tablet pain reliever but don't have a lot of pain mostly some soreness so I don't
think I will need to take pain meds for long.
Thankfully the constant soreness and pain that had recently developed is gone.
For now the tongue is mostly numb on the left side and speech is a bit off but time will heal.
Stitches are the dissolving kind so they will take care of themselves.
I will be on soft foods for a bit like eggs, oatmeal, soups, anything that doesn't take a lot of
chewing I guess and also have some of the breakfast drink mixes on hand that you can drink.
Follow up with ENT doc is July 2, 2018.
I guess that about sums it up for now-any questions or suggestions let me know.
I'm just going to have to adapt to some changes for now and see if it all goes back to normal
or near normal over time we shall see.
Again thanks all for your Prayers, Concerns.
It is Greatly Appreciated.
Russell & Linda
Comments
Discussion Boards
6

CSN Information

120.7K

Cancer specific