One way to survive three cancers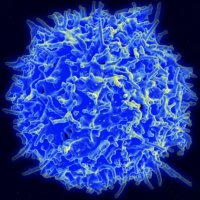 I posted this at ACS sister site WhatNext?, so I might as well re-post it here for the purpose of encouraging those who are struggling with a new or existing diagnosis. Bear in mind that I am not Superman - I have received tons of help thouroughout this journey.
For those who are facing a seeming uphill battle, you are stronger than you know. If I can do this, you can certainly do this. A condensed treatment resumé since primary diagnosis in 2008 (PTCL-NOS):
07/08 Age 56 DX 1) Peripheral T-Cell Lymphoma-Not Otherwise Specified. Stage IV-B, >50 tumors, bone marrow involvement.
08/08-12/08 Four cycles CHOEP14 + four cycles GND (Cyclofosfamide, Doxorubicin, Vincristine, Etoposide, Prednisone & Gemcitabine, Navelbine, Doxil)
02/09 2) Relapse.
03/09-06/13 Clinical trial of Romidepsin > long-term study. NED for 64 twenty-eight day cycles, dose tapered.
07/13 3) Relapse, 4) Suspected Mutation.
08/13-02/14 Romidepsin increased, stopped for lack of response. Watch & Wait.
09/14 Relapse/Progression. Visible cervical nodes appear within 4 days of being checked clear.
10/06/14 One cycle Belinostat. Discontinued to enter second clinical trial.
10/25/14 Clinical trial of Alisertib/Failed - Progression.
01/12/15 Belinostat resumed/Failed - Progression. 02/23/15
02/24/15 Pralatrexate/Failed - Progression. 04/17/15
04/15 Genomic profiling reveals mutation into PTCL-NOS + AngioImmunoblastic T-Cell Lymphoma. Stage IV-B a second time. Two dozen tumors + small intestine (Ileum) involvement.
04/22/15 TREC (Bendamustine, Etoposide, Carboplatin). Full response in two cycles. PET/CT both clear. Third cycle followed.
06/15-07/15 Transplant preparation (X-rays, spinal taps, BMB, blood test, MUGA scan, lung function, CMV screening, C-Diff testing etc. etc. etc.) Intrathecal Methotrexate during spinal tap.
BMB reveals 5) Myelodysplastic Syndrome (MDS), a bone marrow cancer.
07/11-12/15 Cyclofosfamide + Fludarabine conditioning regimen.
07/16/15 Total Body Irradiation.
07/17/15 Moderate intensity Haploidentical Allogeneic Stem Cell Transplant receiving my son's peripheral blood stem cells.
07/21-22/15 Triple dose Cyclofosfamide + Mesna, followed by immunosuppressants Tacrolimus and Mycophenolate Mofetil.
07/23-08/03/15 Blood nose dive. Fever. Hospitalized two weeks.
08/04/15 Engraftment official - released from hospital.
08/13/15 Marrow is 100% donor cells. Platelets climbing steadily, red cells follow.
09/21/15 Acute skin GvHD arrives.
DEXA scan reveals Osteoporosis.
09/26/-11/03/15 Prednisone to control skin GvHD.
05/2016 Tacrolimus stopped. Prednisone from 30-90mg daily tried. Sirolimus begun.
09/16/16 Three skin punch biopsies.
11/04/16 GvHD clinical trial of Ofatumumab (Arzerra) + Prednisone + Methylprednisolone begun.
12/16 Type II Diabetes, Hypertension - both treatment-related.
To date: 18 chemotherapeutic drugs in 9 regimens (4 of them at least twice), 5 salvage regimens, 3 clinical trials, 4 post-transplant immunosuppressant drugs, the equivalent of 1,000 years of background radiation from scanning from 45+ CT series scans and about 24 PET scans. Coming soon: Extracorporeal Photopheresis (ECP) a type of immunomodulatory treatment to reduce the chronic-Graft-Versus-Host-Disease (cGvHD).
I like to quote Yogi Berra here: "It ain't over until it's over."
Comments
Discussion Boards
5

CSN Information

119.7K

Cancer specific