New T-Cell lymphoma treatments on the horizon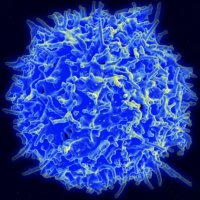 This applies specifically to Peripheral T-Cell Lymphomas. At treatment Monday, I was advised by my clinical trial/study nurse that a couple of new combinations are being worked on by Fred Hutchinson:

Specifically, I-CEOP, which will combine Istodax (Romidepsin) with Etoposide, vincristine, prednisone, and cycolophosphamide, while eliminating doxorubicin and its well-known toxicities. It has the potential to be an alternative to EPOCH for some patients.

Secondly, Istodax combined with Folotyn (Pralatrexate).

Of course, trials will determine their ultimate efficacy. As I am here to attest, Istodax has been amazingly successful in defeating and apparently suppressing Peripheral T-Cell Lymphoma (NOS) for three years now. If successful when used in combination with both standard and newly introduced chemo agents, I think that hope continues to increase for our tiny (but growing) bunch of T-cellers.

The potential here is for the development and introduction of a standard therapy for PTCL, where none exists now. This would be great news. Must here add that my scans are still NED. Thank you, Lord!
Comments
Discussion Boards
5

CSN Information

119.3K

Cancer specific